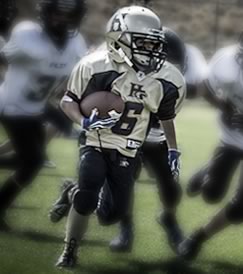 Sam Gordon is a ten-year-old girl football player who made headlines when a YouTube video of her football highlights went viral. The video was viewed nearly 5 million times in just three days. Then things got crazy. Sam appeared on ESPN's SportsCenter, Good Morning America, NFL Network's Game Day, Fox and Friends, Conan, Katie Couric Show, Inside Edition, and more. Sam has even been interviewed for TV and news programs in Japan, Brazil, England, and Poland.
Sam was one of the top 50 most googled female athletes in 2012, she won a Cartoon Network Hall of Game Award Show trophy for Most Viral Video, made the cover of a Wheaties cereal box, and her home town, South Jordan, proclaimed December 18th as "Sam Gordon Day."
Sam was also invited to a practice and game with the 49ers, a practice and game with the US Women's National Soccer Team, a practice with USC's soccer team, practice with the Portland Thorns, and warm ups and a game with the Utah Jazz.
Sam was invited by the NFL Commissioner to attend a New York Giants game with him in the Commissioner's Club Suite. Sam and the Commish became friends and he invited Sam to be his guest during Super Bowl weekend. During that weekend Sam was a guest blogger for espnW, attended media day and the Commissioner's press conference, performed a skit with Alec Baldwin on the NFL Honors Award Show, was featured in an NFL Super Bowl commercial, and sat with the Commissioner and high ranking politicians and famous football personalities.
With the help of Sam's neighbor, Sam wrote a book, Sweet Feet: Samantha Gordon's Winning Season, about her football experiences and all the attention she received after her highlight video went viral.